On Aug 13 the Cheswold Police Department received their Smart 650 Speed Trailer and Traffic Data Recorder from Kustom Signals. The trailer was purchased by Chief Workman through grant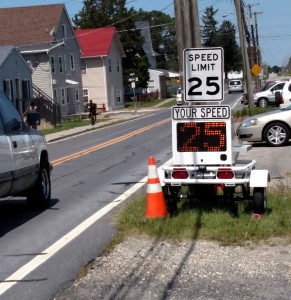 funds received from the Delaware Criminal Justice Council and Kent County Levy Court.
Chief Workman expressed his gratitude to Kent County Levy Court and CJC for the grants which provided the funds for this project. Without these funds the Town could not have purchased this equipment.
The Chief… felt that the traffic problems within the Town placed much of the towns children at risk as a lot of residences border two highly travelled roadways in Main St (Rt 42) and Commerce St in the Town of Cheswold.
Chief Workman stated " We have a lot of children in that area and a high traffic volume on Commerce and Main Streets. This new speed trailer will not only show motorists their speeds and hopefully slow them down but it will also record data on the amount of traffic and speeds travelled throughout the day. This will allow us to review statistical data and deploy officers as needed."