Building and Public Works Department
Michael Callender – Public Works Supervisor/Code Enforcement Officer
2016 – Present
Ofc.: 302-734-6991
Cell: 302-236-9024
Fax: 302-734-1355
Email: codeenforcement@townofcheswold.org
---
David Naples – Building Inspector
Remington, Vernick & Beach
2016 – Present
Ofc: 410-920-5009
Fax: 302-734-1355
Email: david.naples@rve.com
---
Matt Maugle – Maintenance Technician
2018 – Present
Ofc.: 302-734-6991
Fax: 302-734-1355
Public Works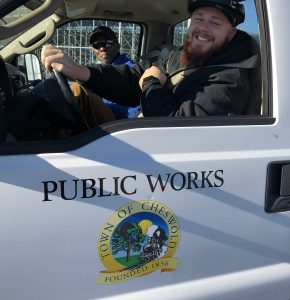 The Public Works Department completes assignments as designated by the Mayor, Town Council and/or the residents of Cheswold, to build, maintain, repair, create, support and operate roads, parks, town buildings, and acquisitions, that will be environmentally safe, cosmetically attractive, and physically healthy to and for the residents and visitors of Cheswold.
Building Permit Application Requirements
Existing Residential
To obtain a Building Permit for a structure on an existing residential property, the following must be submitted along with the application, dependent upon the permit type requested:
Fences; Gazebos; Hot Tubs*; Placements; Pools*; Side Entrances to Garages, Sheds*:

A surveyor prepared or scaled drawing with the overall dimensions and size of the property
Street and road frontage along with the names of such
Location of any existing and proposed structures with dimensions
Distances from all property lines to the structure
*Hot Tubs & Pools with filtering systems and are 24" and deeper require a permit
*Shed setbacks are 5' from rear property line and 3' from side property line

Awnings; Decks; Decks w/Ramp and/or Roof; Pergolas; Porches; Ramps; Retractable Awnings; Roofs on Existing Porches; Solar Panels

Drawing of the proposed structure to be attached to the residence
Location of any existing structures connected to or affected by the proposed structure
ADDITIONAL COMPLIANCE REQUIREMENTS:

MISS UTILITY, (1-800-282-8555), must be notified 48 hours before any excavation can begin. This requirements is in association with: o Fences o Placements o Side Entrances o Garages o Sheds
All contractors and sub-contractors are required to be licensed with the:
State of Delaware
Town of Cheswold
All contractors and sub-contractors must provide written and visible proof of insurance.
---
Building Permits, Forms and Requirements
Applications:
Fee Schedules:
---